Generic and government minted 999 silver bars and rounds ranging from 1/10 ozt up to 100 ozt. 
Generic silver as well as U.S., Canadian, British, Australian, and many more in stock!
As low as $2 over spot for generic

As low as $4.50 over spot for American Eagles
Call 505-884-4888 for current pricing and availability.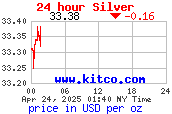 *Pricing and quantities are subject to change*
*Call for quantity price breaks*
*All sales are contingent on available inventory*
We have more selection/products than you see in the photos. See store for details.
Visit our Ebay Store for more coins.
To check pricing for the day contact us.
Call 505-884-4888 for daily pricing and to place an order.